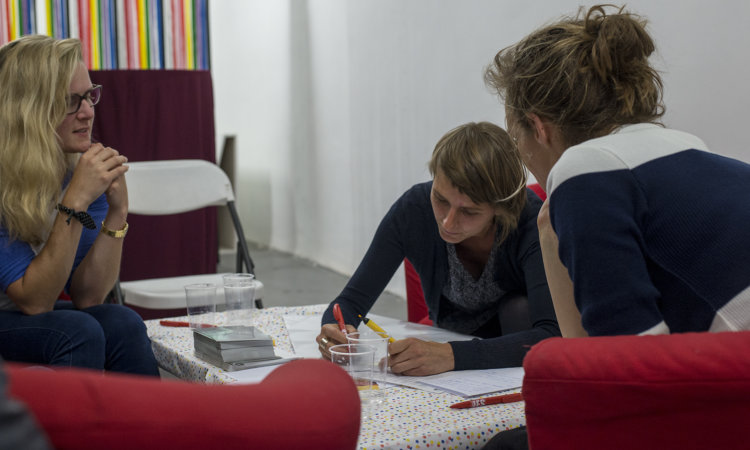 Custom support
We offer advice and support in different forms, both individually as well as tailored to your organisation.
Individual advice
Thanks to our position in between sectors, we have a good overview of what is going on and who is doing what. This way we can match people and organisations that may not know each other, but could well become ideal partners for a joint project. We can also help you with best practices or think along when delineating the concept of a specific project. Contact us through the below form and we'll gladly help you along.
Set to work with BabbelArt
BabbelArt is a playful conversation method to talk about art and culture in a group or in class. We offer various training and mentoring formulas around the game.
We regularly organise info sessions in which we'll swiftly guide you through the conversational method and its possibilities. If you want to use BabbelArt with your group, you can follow a 'Train the Trainer' session. As you play the game, you'll discover all the details of the conversational method and be privy to some tips on how to play BabbelArt with your group or class. Find the planned info sessions and 'Train the Trainer' sessions in our calendar (only in Dutch and French).
Want some more grip on things when preparing to play the game for the first time? We also provide a tailored mentorship. The intention is of course that in the end, you can play on your own or with colleagues. Interested? Let us know through the form at the bottom of this page.
Support tailored to your team
In the context of a team day or an educational workshop, for instance, we can provide a more intense tailored training. We'll start from challenges and concrete questions in your organisation or school. Do you want to think about the place culture has at work or about how to work with cultural participation, tailored to your members, students or audience? We'll gladly help you out in formulating a final aim and brainstorm on possible roads that lead there. We can also offer you an overview of possible partners and the cultural offer in Brussels.