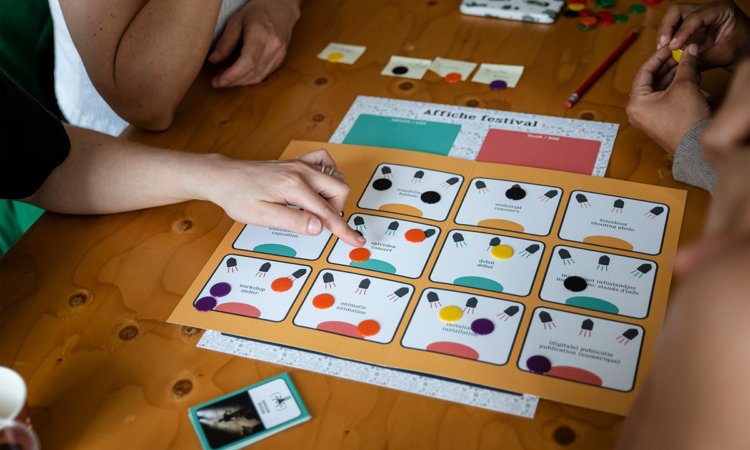 Vorming op maat - kopie
We offer advice and support in different forms, both individually as well as tailored to your organisation. Contact us through the below form and we'll gladly help you along.
Individual advice
Thanks to our position in between sectors, we have a good overview of what is going on and who is doing what. We can also help you with best practices or think along when delineating the concept of a specific project.
Formations
The below formations are available both offline and online, during an inspiration day, a team activity, a formation event,...
1 - Networking and neighborhood-oriented activity
How do you choose thee organisations to collaborate on a project? And do such organisations exist in your surroundings? Learn how to easily grow your own network and what it means to orient yourself towards your neighborhood. Suited for groups of up to 18 pers., total duration about 90 min.
2 - Participation in artistic or cultural projects
Setting up a participative project is easier said than done. We'll get you acquainted with the different steps in the process: with specific techniques and good practices as a starting point, we'll show you how to design projects with the input of your class/group of kids/youths/adults. Suited for groups of up to 18 pers., total duration about 90 min.
Set to work with BabbelArt
BabbelArt is a playful conversation method to talk about art and culture in a group or in class (more info in Dutch or French). We offer various training and mentoring formulas around the game.
1 - Discover BabbelArt
An introduction to both the Online and the Box version of the game, followed by a brainstorm on how to use BabbelArt with your group of class. Suited for groups of up to 18 pers., total duration about 90 min.
2 - Train-the-Trainer
With your team situation in mind, we'll dive into the details of either the Online or the Box version. You'll also get heaps of tips and inspiration on the various ways in which BabbelArt can be used. You can sign up for a Train-the-Trainer yourself, but also for one of your colleagues or for your team. Suited for groups of up to 18 pers., total duration about 120 min.
3 - Guided game
We'll accompany you while you play BabbelArt with your group or class. The objective is to, in the end, be able to play it independently, alone or with colleagues. Only available in the Brussels region. Suited for groups of up to 24 pers., for 1 (class) hour or more.
Pricing
Individual advice is free, with a maximum duration of 3 hours.
The price for our formations (Networking and neighborhood-oriented activity / Participation in artistic or cultural projects / BabbelArt) is €60 per hour (€50 for a class hour of 50 min.) and per mentor. Furthermore, we charge a fixed cost of €50 for preparations, materials, evaluation and debrief (except for the Discover BabbelArt)
Support