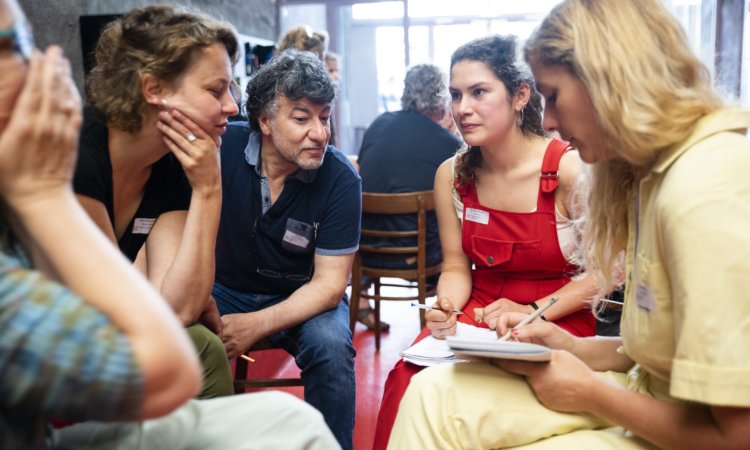 Network partners
The Lasso networks bring together partners from a variety of sectors. Below you will discover who those partners are. Each of these organizations and institutions participated in our projects, came to our activities or interacted with us in the past year.
Want to know more about how a specific organization was involved with Lasso? Or would you like some more info because you want to partner with them yourself? Feel free to contact us.

Arts & culture
In the past year, these art houses, artists, art educational organizations, heritage organizations and socio-cultural players were part of our network.
1 Take
AMATEO
Art FabriC
Art)&(Marges
Association for Amateur Theatre
Atelier Graphoui
Ax Kultur
Bad Van Marie
Bare Cheek Theatre Company
BELvue museum
Beursschouwburg
Bewogen Festival
BKO/RAB
BMR - Open Museum
Boutique Culturelle
BOZAR
Bronks
Brusselse Museums
CC De Factorij - Zaventem
CC Strombeek
CC Westrand - Dilbeek
Cinematek
Citizenne
Communa (Tri Postal)
Culture et Santé
Dag van de dans
Dansen in Brussel
Das Letzte Kleinod
Denitsa Ilcheva
Dharts, kunsteducatieve dienst Destelheide
Erasmushuis
Faro
Film department Republic of Slovenia Public Fund for Cultural Activities (JSDK)
Folk Dance Group
Foundation Philippe Vandenberg
GC De Dam
GC De Kam
GC De Kriekelaar
GC De Linde
GC De Rinck
GC De Vaartkapoen
GC Everna
GC Nekkersdal
GC Nohva
GC Ten Noey
Glej Theater
House of Activity and Creativity
Huis van Culturen en sociale samenhang Molenbeek
Imagine #1080
Internationaal Comité vzw (+ zelfstandig theatermaker)
Joods Museum
Kaaitheater
Katrien Oosterlinck
Kaunas 2022 European Capital of Culture
KBIN
Klavier-Festival Ruhr
KMSKB
KNEPH
Kunstenfestivaldesarts
Kunstenpunt
Kuumba vzw
KVS
L.E.A.D. vzw
La Boutique Culturelle
La Fonderie
Labolobo
MADO Nord
Magritte Museum Jette
Maison des cultures et de la cohésion sociale Molenbeek
Memory of the Nations Theatre
MetX
MoVart-Danscentrumjette
Muntpunt
Museum Den Ast Halle
Music Delivery
Odisee vzw
Organisation of Music Associations in Fryslân
Picture Festival
Pierre de Lune
Pioneer Projects
Point Culture
Publiq
RAB/BKO
Ras El Hanout
RECUP'ART - Cultureghem
Regis Bour
ROBIN
Schoolpodium Noord
Stad Brussel - Nuit Blanche
Stapstad
Súkromná základná umelecká škola
Tactile Talk
Talent in Beweging
the Art Fabric
Thierry Errembault
Traffic Classik
Udruzenje folklornih ansambala Crne Gore
Ultima Vez
Urban Wilderness
Voluntary Art England
Vzw Kuumba
workspacebrussels
WP Zimmer
Zinnema

Education
Following educational institutions and Broad Schools were involved in our operations:
Atheneum Brussel
Brede School Nieuwland
BRUSEC
Brusseleer
Canon Cultuurcel
Cardijnschool
CBDP
CEFA Anderlecht
CEFA Anderlecht
De Muziekladder
Ecole Secondaire Plurielle Karreveld
Erasmushogeschool - Pedagogie van het Jonge Kind
Erasmushogeschool - Sociaal Werk
Haute Ecole Lucia de Brouckère
HIVA
HOGENT, sociaal werk
IBO Nekkersdal
IHECS
Institut des Soeurs de Notre-Dame
Institut des Ursulines
Institut Les Urselines
Institut Notre Dame
Ket & Co en Brede school Molenbeek
Kunsthumaniora Brussel
Kunsthumaniora Laken
Odissee Hogeschool - Pedagogie Jonge Kind
Odissee Hogeschool - lerarenopleiding
Onderwijs Centrum Brussel - OCB
Sint-Lukas Kunsthumaniora
SKVR Brassbandschool
UCLL
Vlaamse Scholierenkoepel
VUB Agogiek



Youth work
In this overview you can find the youth work organizations that we reached in the past few months:
A Fonds - VGC
Chambéry
Cultureghem
D'Broej
D'Broej-Centrum West
De Aanstokerij
Destelheide
FMJ - Fédération des Maisons de Jeunes
Foyer des jeunes
Gezinsbond
JES / BIG in BXL
JES Brussel
Jeugdhuis Habbekrats
Jeugdhuis 't Mutske
JHOB
Ludéo
Maison des Jeunes de Ganshoren
MIKS
Miks Laken
MJ Avenir asbl
Mosaic
Move Asbl
Promo Jeunes
Tienerwerking Sint Gillis
Tremplins asbl
WMKJ Chambéry

Welfare
These welfare organizations participated in Lasso activities, Lasso projects or had contact with us last year.
A Place to live
Abrusco
Agentschaps Inburgering en Integratie
Anysurfer
Article 27
Au Bord de L'eau
BON/Agentschap Inburgering en Integratie
BON/Masir Avenir
BOP - Brussels Ouderen Platform
Buurtwinkel Anneessens
Community Action to Inspire Hope
De Buurtwinkel
De Schakel
FedOS vzw
Ferme du Parc Maximilien
Gehandicapten en solidariteit vzw
Groep Intro
Hubbie
LDC Het Anker
Minderhedenforum
Minor Ndako
Platform kinderen op de vlucht
Try-Out



Government
The following government organizations, institutions and services belong to our networks:
Actiris
Bruxeo
CJM Vlaanderen
COCOF Culture a de la classe
Gemeente Elsene
Gemeente Sint-Pieters-Woluwe
Perspective.brussels
Stad Brussel - Cultuurbeleidscoördinator
Stad Brussel - Nederlandstalige Aangelegenheden
VGC cultuur
VGC Entiteit Gemeenschapscentra
VGC Entiteit Gezin
VGC Erfgoedcel
VGC Jeugddienst
VGC Paspartoe
Visit.Brussels
Networks