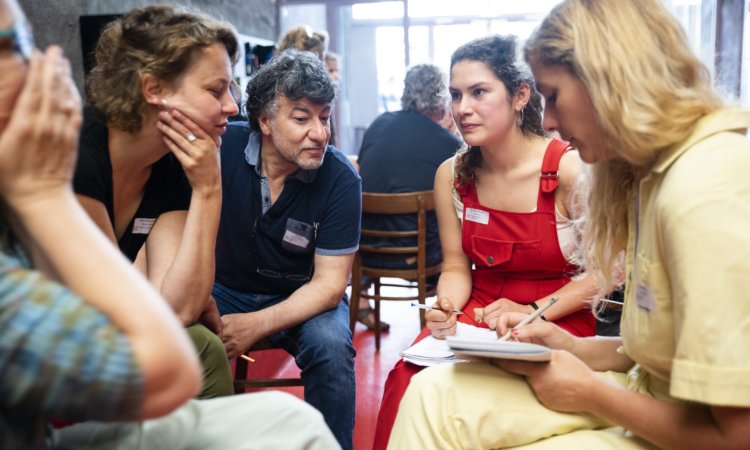 Who we reach
A variety of actors
The Lasso networks bring together partners from a variety of sectors. Below you will discover who those partners are. Each of these organizations and institutions participated in our projects, came to our activities or interacted with us in the past year.
Want to know more about how a specific organization was involved with Lasso? Or would you like some more info because you want to partner with them yourself? Feel free to contact us.

Arts & culture
In the past year, these art houses, artists, art educational organizations, heritage organizations and socio-cultural players were part of our network.

Amadeo Kollectif
Amateo Network
Anthea Missy
Arktos
ARSENAAL/LAZARUS
Art Basics for Children
Arts&Publics
Avansa - Halle Vilvoorde
Balthasar vzw
Belgian National Orchestra - onderwijs
Belgian Saxophone Choir - BSC
Beursschouwburg
Bibliotheek Machelen
Bibliotheek Etterbeek
Bibliotheek Grimbergen
Bibliotheek Machelen
Bibliotheek Oudergem
Blenders
BOZAR
Bronks
Brufête
Brussel Avenir
Brussels 2030
Brussels Museums
CC De Factorij
CC Het Bolwerk / Stad Vilvoorde
Centre Tour à Plomb
Chorus Erasmus
CIFAS
Collectif Huma
Coopérative CERA
Cultureghem
Cultuur Noordrand
Cultuurplatform Stad Brussel
Dansen in Brussel
das Kunst
De Kriekelaar
De Maan
GC De Markten
de Muze van Meise
De Veerman
Dear Pigs
deBuren
Demos
El Antitango vzw
Erasmushuis
FARO
Filemon
Filem'On
For Real vzw
GC De Kriekelaar
GC De Kroon

GC de oude pastorie

GC De Rinck

GC Den Dam

GC Essegem

GC Hof ten Hemelrijk

GC Op-Weule

GC Ten Weyngaert

Independent artists

Internationaal literatuurhuis Passa Porta

Jeugd en Muziek Brussel

Jeunes Boss

Joods Museum van België

Jubilee vzw

K.A.K

Kaaitheater

Kamo VZW

Kanal-Centre Pompidou

Klavier-Festival Ruhr

KOROW vzw

Kunst in zicht

Kunstenaars in de klas

Kunstenwerkplaats Vzw

Kunstkot

KWB

La Bellone

La chambre de l'art et de la culture euroméditéranéenne

La Fonderie

LabArca Ensemble

Labolobo

LabOMTA

Lillith & Mo

Maison des Cultures et de la Cohésion Sociale de Molenbeek

Masereelfonds

Met-X

Muntpunt

MUS-E

musée BELvue museum

Mutimuzz vzw

Muziekpublique

Objects in Transit

OKRA Anderlecht Centrum

Orfeo

Philippe Vandenberg Foundation

Pierre de Lune

The Primitives vzw

Printstudio 868

Publiq

Recyclart-archikids

ROBIN vzw

SchoolpodiumNoord

Sounds for the soul

Squeez danstheater

Stapstad/brukselbinnnstebuiten

Tactile Talk

The Bridge
Tristero
TXTURE

Urban Center Brussel

VAF

Ville de Bruxelles - Centre Tour à Plomb

Visual Laboratory

WIELS

Education
Following educational institutions and Broad Schools were involved in our operations:
Atheneum Brussel
Brede School BruSec - D'Broej
Brede school Domino Etterbeek
Brede School Lucerna
Brede school Molenbeek
Brede School Oudergem
BroM / Brede School Molenbeek
Cardijnschool Anderlecht
CEDD CRéDASC
CEFA Anderlecht
Culturele leerplek Abrusco
Basisschool De Muziekladder
Ecole Secondaire Plurielle Karreveld
Erasmushogeschool Brussel
GO! Atheneum Anderlecht
GO! Atheneum Etterbeek
HIVA
Hoofdstedelijke Kunstacademie
IHECS
Imeldabasisschool
Institut De Mot-Couvreur
Kunsthumaniora Brussel
Mabo
OCB - Teens N Brussel
Odisee
Onderwijscentrum Brussel
PECA
RITCS
Ruusbroeckollege
Schoolcontract klavertje 4 Noordwijk
GO! 4 cITy - Secundair onderwijs
Sint-Lukas Kunsthumaniora
Sint-Niklaasinstituut Anderlecht
Stad Brussel Openbaar Onderwijs
Steinerschool Anderlecht
Try Out
VUB - GITO Tervuren



Youth work
In this overview you can find the youth work organizations that we reached in the past few months
Aximax vzw

Badge

Big in BXL

Bruxelles Babel - Tremplins asbl

Centrum West

Chambery

Circus zonder handen

D'Broej

De Aanstokerij

Des Blocs + Hors les muren

Destelheide

Dharts, kunsteducatieve dienst Destelheide

Good Vibes

Jes vzw

Maksvzw

Medialabo JES Brussel

Mosaïc

MOVE asbl

Welfare
These welfare organizations participated in Lasso activities, Lasso projects or had contact with us last year.
Agentschap integratie en inburgering

Alba vzw

Bon

Brussels Ouderenplatform

De Ark

De Rode antraciet

Fedos

Gehandicapten en solidariteit

Groep intro

Hubbie

Huis van het kind Anderlecht

IBO De buiteling

IBO Helmet

IBO Nekkersdal

KVG

LCD Het Anker

LEVL

Lus vzw

Masir Avenir

Minor-Ndako-Benjamin

Opgroeien in Brussel

PIN vzw

Samenlevingsopbouw Brussel vzw



Government
The following government organizations, institutions and services belong to our networks
Bruxeo

CANON Cultuurcel

COCOF

Commission communautaire française

Cultuurdienst Anderlecht

Cultuurdienst Molenbeek

Dienst vrije tijd en leren Kapelle-op-den-Bos

Dienst vrije tijd Machelen

Dienst Vrije Tijd Meise

Gemeente Auderghem

Gemeente Schaarbeek

Gemeente Watermaal-Bosvoorde

Jeugddienst - VGC - À Fonds

Jeugddienst Anderlecht

Jeugdraad en cultuurraad Molenbeek

Koning Boudewijnstichting

Lokaal bestuur Londerzeel - dienst Vrije tijd

Stad Brussel - Dienst Cultuur

VGC Entiteit Gemeenschapscentra

VGC Erfgoed

VGC Jeugddienst

VGC Kunsten

VGC Onderwijs

VGC streamingdienst

VI.be

Ville de Bruxelles

Vlaamse overheid - Coördinatie Brussel

Vlaamse overheid - departement CJM

Vrije Tijd Machelen
Networks